WRITE A FUNDRAISING ORGANIZATION BUSINESS PLAN USING SAMPLE NON PROFIT FINANCIALS
PlanMagic Non Profit offers you a well written detailed non profit business plan in MS Word useful for any NPO, a fully automated close-to-reality non profit financial projection application in MS Excel including a pre-filled sample plan, a presentation template, incomparable state-of-the-art financial analysis tools, and a comprehensive non profit business plan guide. Use PlanMagic Non Profit for the startup of a fundraising organization, charity, non profit organization, foundation, social enterprise, church or any kind of tax-exempt organization, or for analyzing and improving (even rescuing) the financial situation of an existing non profit organization.

PLAN ANY FUNDRAISING ORGANIZATION THE EASY WAY
UNIQUE
Don't be misled by all those search results claiming to have a non profit business planner, because they don't! PlanMagic Non Profit is the ONLY non profit business plan program with dedicated plan templates and a non profit organization financial planning application. We aim to help you achieve your non profit goals with state-of-the-art planning tools and analyses. Our ongoing commitment to continuous product improvement guarantees you an up-to-date planning system at all times. Start today to plan to start up, expand or monitor your fundraising organization the easiest and most realistic way.
BENEFITS
PlanMagic Non Profit offers you:
Plan any fundraising organization like a pro
Plan to finance any fundraising organization start-up or expansion
Check the feasibility of your fundraising organization business plan
Surprise any potential investor with a thorough and complete presentation
Analyze the financial situation with state-of-the-art analysis tools
Stay up-to-date with the real financial situation at all times
Unlimited what-if and other analyses for 5 years without loss of data
Unique tools such as line of credit scenarios, break-even analysis per product line, ROA/ROE/SGR chart, and more
It is the best investment you will ever make for your fundraising organization !
COMPLETE
A complete non profit business plan program that includes:
One or more pre-written non profit business plan templates, even for specific NPO types
Close-to-reality fully automated non profit financial projections
A complete presentation template
Comprehensive step-by-step business plan guide
Assistance tools for specific tasks
FAST
A program that produces faster results than any other
PlanMagic's Smart Entry System (SES)™ minimizes and significantly speeds up data entry
Brought to you by a company with over 25 years of related experience
It is a helpful program that offers the necessary flexibility
Its structure is the preferred format for investors and lenders today
It offers you all that should be included in a fundraising organization business plan geared toward success!
ADVANTAGES
PlanMagic Advantages
Legendary Ease of Use
Designed to work the way you work, so you don't have to change your current business processes. Familiar and intuitive MS Office interfaces (MS Word, MS Excel, MS Powerpoint).

Advanced Functionality
Built-in charts, analysis tools and advanced reports, perform in-depth financial analyses, and much more.

Low Cost of Ownership
Starts at just $99.95 for a single user license, which includes free technical support.

Customer Approved
Used by over 100,000 starting and growing businesses around the world. PlanMagic software products serve customers in every industry, including manufacturers, wholesalers, contractors, retailers, distributors, services providers, consultants, non-profits and many many others.

Backed by PlanMagic Corporation
PlanMagic software products are the financial planning and analysis solution recommended by more accountants, CPAs and other business consultants than any other, and we are confident you will be 100% satisfied.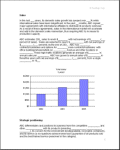 Non Profit Business Plan Template
The preferred format fundraising organization business plan template for investors, SBA, banks and angel investors in MS Word format.
You don't have to create your own contents from scratch or delete most of it as may be the case with a sample plan. You'll also get the most professional printed results. The program includes the non profit business plan template and one for free of those available for specific types of non profit organizations. The non profit business plan templates are fully geared towards the fundraising organization entity. Easily add project plans, phasing diagrams, floor plans, specific plans and more as is needed. Easily insert financial data from the financial application.

Non Profit Business Plan Template

Table of Contents (automated)

Executive summary

Mission
Description
Formation
Philosophies/identity
Vision of the future
Main objectives
Key advantages
Strategic positioning
Strategic alliance
Generated income
Contributors
Fundraising organization licenses
Board of Directors / Trustees
Personnel
Funds required

Development (AE only)

Location determination
Development process
Project plan
Development team

Programs

Exempt business income

Grants & pledges
Memberships
Donations
Fundraising & events
Other exempt business income
Revenue on investments (exempt)

Unrelated business income

Product sales
Revenue on investments (unrelated)

Revenue summary

Marketing

Market analysis
Marketing goals & strategies
Sponsors
Competitive research & comparison
Pricing strategy
Distribution & service
Operations
Advertising & promotion
SWOT analysis

The organizational structure

Management and personnel
Administrative organization
Contingency planning

Fundraising organization operations

Fundraising organization identity
Fundraising organization location
Fundraising organization premises
Fundraising organization layout

Risk management

Risk reduction
Exit strategy

Financial plan

The investment budget
Statistical data (ratios)
The return on investment
Financial projections

Timeline

Appendices





Non Profit Business Plan Financials
Trend setting financial application written in MS Excel that has no competition when it comes to close-to-reality fully automated non profit projections with too many unique features to list them all.
You will not find a better solution as specific, as detailed, and as automated. For consultants there is no limit to the number of projections and fundraising organization business plans that can be created. Enter some main assumptions, and start entering your financial data into the clearly marked cells. Use it for a fundraising organization business plan and for ongoing monitoring of your fundraising organization.
Key advantages
Offers PlanMagic's Smart Entry System (SES)™ to minimize and significantly speed up data entry.
Validation checks for data consistency.
Development can start up to 5 years prior to operations (AE only).
Fiscal year and forecasts can start in any month.
Forecasts include monthly (3 years), quarterly (3 years), and annual (5 years).
Up to 5 years (AE 10 years) can be forecast in one financial workbook, with no limit if multiple workbooks are used.
Views are collapsible for clear summaries.
Costs can be split between fixed and variable cost for contribution, break-even and similar analyses.
Projected balance sheets that are always balanced.
More than 40 charts illustrate trends in expenses, sales, revenues, cash flow and more.
With the Advanced Edition -AE- you can plan up to 10 years and enjoy more detailed financial analysis and reports that surpass even the most expensive accounting programs.

Memberships & Donors
A stand-alone memberships and donors list and other tools. Keep track of memberships and donors, equipment list, and more.
Business plan guide
A complete business plan guide in HTML format. The guide covers subjects such as organizational structure, financing (owners' equity, foreign capital), marketing (market analysis, business goals, marketing strategies, advertising), non profit operations (business identity, business location), non profit financials (projections, historic analysis, ratios) and more.

Non Profit Presentation
Easy to complete presentation template (> 50 slides) in PPT (MS PowerPoint) format. You can copy text from the document templates, link to tables in the document template, or link to worksheet data in the financial application. The template contains the same chapters and subchapters as the non profit business plan template.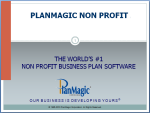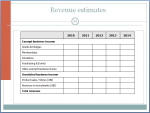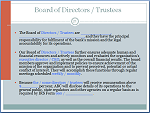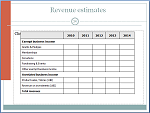 Summary
Unique - Includes the only financial planner in the world for non profit organizations.
Easy to use - Use of simple and understandable terms. You do not have to be an accountant.
Thorough - Incredibly complete and thorough.
Versatile - Incredibly versatile. Optimal for all non-profit organizations.
Automated - Automated financial projections made easy and yet so complete. Revenues, investments, depreciation, loan payments, accounts receivable/payable, inventory, dividends, tax, sales tax, payroll burden and more.
Personnel wizard - add, edit, remove departments, groups and persons easily.
Product wizard - add, edit, remove product lines and products easily.
Print wizard - Professionally printed results. Business financial printouts are preformatted in Letter, Legal or A4 paper size.
Sales tax - Financials handle US sales tax, VAT, GST or similar sales tax systems.
Multiple currency - The financials can use any currency, and you can use the exchange rate multiplier to quickly update all the values.
Useful guide - Comprehensive non profit business plan guide.
Business plan template - Non Profit business plan templates.
Competitive price - A competitive price of $99.95, Advanced Edition $175.00.

"Congratulations for the best non profit business plan solution
I've found on the market.

Your financials are awesome!"

More testimonials

No one knows or cares about your organization like you do. Nor will anyone spend the time analyzing or monitoring your financials without it costing you a fortune. Can you afford (not) to get the best available software to get the job done professionally and fast? No one has made it easier for you to write the contents of the non profit business plan, offers the same high quality printed result, offers the same level of financial automation, a complete business plan guide, as well as a professional business plan presentation template.
Minimum requirements PlanMagic Non Profit 12:
A personal computer with MS Windows XP/Vista/7 32/64-bit, MS Office 32-bit 2002(XP)/2003/2007/2010. Optional MS PowerPoint 2002 (XP)/2003/2007/2010. Click here for Mac.
Delivery: via Electronic Download (~9.6Mb, AE ~15.4Mb).
PlanMagic Non Profit 12 - $99.95
MS Office, MS Word, MS Excel and MS PowerPoint are registered trademarks of Microsoft Corporation,
PlanMagic and Finance Pro are registered trademarks of PlanMagic Corporation. All copyrights acknowledged.
Buy PlanMagic Non Profit 12 - $99.95
Buy PlanMagic Non Profit AE 12 - $175.00
PayPal
You can use your PayPal account or credit card to pay. Immediate downloading is possible if the payment can be verified in the same session. Do not use a free e-mail address or forget to include address details, or the payment cannot be verified in the same session, in which case manual processing is needed, which will take a little longer.
2CO
You can also use our Official Retailer 2CO to order. You can use ALL major credit cards and debit cards with Visa or MasterCard logo. Order fulfillment takes anywhere from 24 to 48 hours. To speed up the process avoid free e-mail address and include all address details as well as company details if available.
Wire transfer
If your country is not in either country list, or you do not have a debit/credit card or PayPal account, you cannot pay us online. You can still order our software in some cases and use a bank wire transfer to pay.