Once you ordered and paid using one of the time packages, we will contact you via whatever means you indicated (phone, email, skype, messenger, etc..), and discuss the details of your estimation project.
We collect all information you have available and assess what else may be needed (if any). If we have enough information to get started, we start the process. If other data is needed, we do those parts of the plan when the information becomes available.
If you want to contact us first for an initial chat about your project, we can do that first. You can request a quote and we'll take it from there.
Types of estimations
products based
services based
subscriptions based
non profit
bar, retaurant or similar
BnB, hotel or resort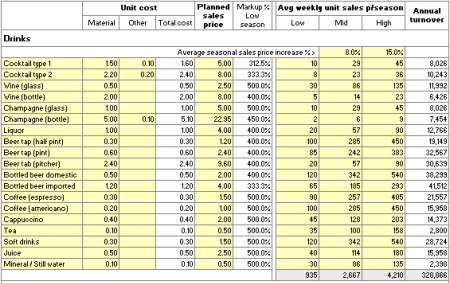 Revenues format
The resulting revenues estimation will be delivered as a PDF file or if preferred as a values only XLSX file.
Time span
Depending on type of business the revenues estimation can be for 2, 5, or 10 years. 15 years for hotels and resorts.
some chart images can also be included
Data collection
Once all required information has been received and gathered, the process begins.
Progress
Your estimation file will be accessible in a secure area on our site and are updated whenever changes have been made. You can log in anytime to see the progress and to access your estimates.
Files
We keep a timesheet so you can monitor the time spent on your project. All files created will be available for download on our site in a secure client area.
Project completion
Upon completion the result will be a close-to-reality revenues estimation.